Welcome! For domain inquiries, offers and/or questions use the form below.
Recommended Article: Why the Fake News Mantra will Drive Domain Values Higher by Chris Zuiker
…To mitigate risks and realize long-term ROI, businesses will shift strategies and investments to developing out their domains.

The goal of every brand should be to directly communicate with their audience (not thru a third party).

Your domain strategy is the foundation of this process.

Here is why I think the "fake news" movement will positively impact domain names

The major platforms (Google, FB, Twitter, etc…) will tighten control of what and who gets published on their sites and enforce their ability to shut down accounts overnight with no appeal process. This will and can impact industries long term such as marijuana, survival gear, guns and potentially anything considered political.

Although this is not new, this bold announcement and enforcement creates huge risks around long-term marketing investments and positioning. Brands will be incentivized to utilize these platforms to take back the conversation to their sites versus setting up a foundation on a third party. READ MORE
Recommended Article: One Domain Name Can Change Everything by Alan Dunn 
Once you own a great domain name you will never settle for anything less.

This is an extremely important phrase to remember.
Every week we hear people complain about domain names. One day it's the price, the next day it's how another person isn't using a domain so they think they have a right to it, or how $5,000 for a one-word dot-com is more than the owner will ever get.

Then there are the charity requests, the pastor looking for a freebie (from a big company email) or the trademark request, from the guy who never really filed a trademark.
Some days it's all of this together and more.

The people who do understand the value of domains totally get it. In fact, these people are often the ones kicking your ass as a competitor — time after time.

Why?

Because it's not just a domain name.

It's so much more.

A domain name is a highly valuable piece of intellectual property that you need to focus on getting right.
A domain name is something your staff has to spell every day
A domain name is the face of your company email
A domain name is your home on the web.
Recommended Article: $25,000 for a Domain Name is (not) Crazy. Domain Name Cost vs. Other Media
A $25,000 domain name is still incredibly cheap compared to the value received by almost any other marketing source.

A large roadside billboard can cost upwards of $30,000 for every four-week period, according to Blueline Media. According to Entrepreneur magazine, radio ads can easily cost $8,000 to $12,000 a month for smaller companies. The average small business using AdWords spends between $9,000 and $10,000 per month, according to Wordstream.

Let's try this again, but annually. A large roadside billboard can cost upwards of $390,000 annually, according to Blueline Media. According to Entrepreneur magazine, radio ads can easily cost $96,000 to $144,000 a year for smaller companies. The average small business using Google AdWords spends between $108,000 and $120,000 annually, according to Wordstream. READ MORE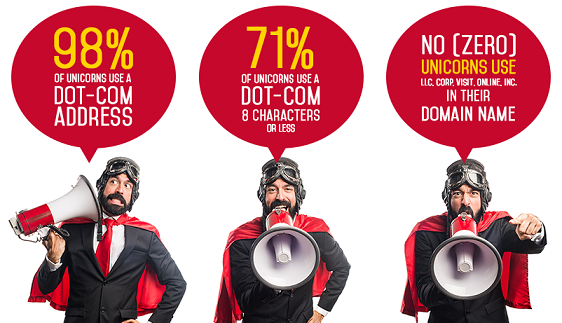 Recommended Article: China's newest investment craze is short domain names (QZ.com)
A recent auction in Shenzhen showed how hot names are right now. On Dec. 19th's "Domain Day of China," the first-ever Chinese Domain Festival and China Digital Asset Investment Summit, a crowd of over 200 Chinese investors spent 154.49 million yuan ($24.1 million) to snap up domain names like house.com.

An entire cottage industry of brokers, auction houses, and domain name valuation websites has sprung up to cater to these investors that controls the industry. "Most large deals are done via agencies," said Chen Xuedan, the chairman of 190.com, a digital asset company that co-sponsored the Shenzhen auction. READ MORE