Ethereum Name Service & .ETH Domains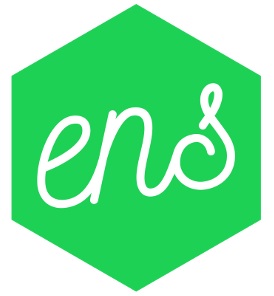 ENS is the Ethereum Name Service, a distributed, open, and extensible naming system built on the Ethereum blockchain.
.ETH is a Top-Level Domain (TLD) within the ENS and in May of 2017 these domains became available to the public for registration via auction process. Only domains seven characters or less are open for registration. According to the ENS road map, when the ENS system is more evolved and has reached consensus on important administration topics there will be a permanent registrar in place and names shorter than seven characters will likely go to a public auction.
Currently .ETH domains are being used as aliases which can resolve to an Ethereum wallet. Instead of sharing your public address with someone to have them send you Ether, you can now have payment sent to your .ETH domain or sub-domain for example: my.wallet.eth. This makes sending and receiving crypto currency much easier. As the naming system is extensible, you can expect to see more functionality from .ETH domains in the near future.
ENS architecture has two principal components: the registry, and resolvers.
The ENS registry consists of a single central contract that maintains a list of all domains and subdomains, and stores three critical pieces of information about each:
The owner of the domain
The resolver for the domain
The time-to-live for all records under the domain
Owners of domains in the ENS registry may:
Set the resolver and TTL for the domain
Transfer ownership of the domain to another address
Change the ownership of sub-domains
We believe .ETH will eventually be the primary TLD of the decentralized web, individuals and companies should act quickly to secure .ETH domains critical to their brand or public image.
If you need to acquire .ETH domains, we can help. The process is not terribly complex but it does require a good bit of time, attention to detail, technical know-how and patience. Because this is a totally decentralized name space, it is unlike traditional naming services that guarantee your order and execute for you immediately. No customer support is available and mistakes can be costly as you are locking up a portion of Ether with each action/order placed.
VentureTent specializes in domain naming services and has already acquired .ETH domains for our company and clients. We are familiar with the auction process, transfer and setting up resolvers to Ethereum wallets. Connect with us if you are interested in .ETH acquisition and consulting services. Initial consultation is free!